Pymatuning State Park, Pennsylvania and Ohio
Driving Directions
Pymatuning State Park is located in Pennsylvania and Ohio. Pymatuning Lake is the centerpiece of the parks. They are split up into units that are distributed along the lake's shoreline. This webpage can help you obtain driving directions to areas near the four campgrounds in Pymatuning State Parks. The best way to figure out what set of directions are right for you, regardless of where you want to go in the park, is to first check out the map of Pymatuning State Park. Once you find the campsite nearest to the area you want to go, get directions to that area from one of the maps below and then adjust your plans and driving accordingly. To help guide you I have also included maps that show the area around each campground.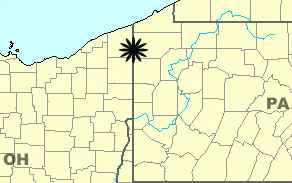 Here are the steps to follow to obtain driving directions from your location: click on get directions "to here" from the appropriate google map shown below, enter information about your starting location in the box that opens, and then click on the GO button. The directions and a map of the route will open in a new browser window.
You can scroll down the page to explore the maps or you can jump right to the place where you need to find directions:
---
Tuttle Campsite and Tuttle Beach, Pennsylvania
Tuttle Campground (Tuttle campground map) and Tuttle Beach are located on the south side of the northern section of Pymatuning Lake. Recreational amenities that can be found here include access to swimming, boat launches, boat moorings, hiking trails, playgrounds, a campsite, snowmobile trails, picnic facilities, a concession store, bathrooms, and showers.
View Larger Map
---
Linesville Campground and Linesville Beach, Pennsylvania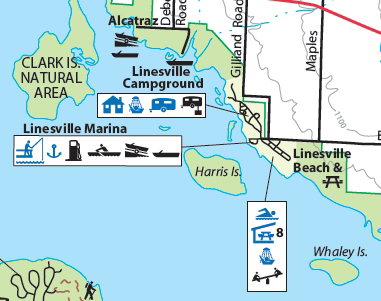 Linesville Campground (Linesville campground map) and Linesville Marina are located on the eastern shore of Pymatuning Lake. Camping facilities, marina services (gas, mooring, boat launch, etc), restrooms, swimming, and other amenities are all found in this area.
View Larger Map
---
Jamestown Campground and Jamestown Beach, Pennsylvania
Jamestown Campground (Jamestown Campground map) is located on the western shore of the southern reaches of Pymatuning Lake. Some of the recreational amenities include the campground facilities, picnic tables, swimming, a playground, a hiking trail, and a concessions store.
View Larger Map
---
Pymatuning Campground, Ohio
Pymatuning Campground (Pymatuning Campground map) is located along the western shore of Pymatuning Lake. The map directions available from the map below will guide you to a location that is near many Ohio Pymatuning State Park units. The campground is located south of the driving directions endpoint and the swimming beach is to the north, adjacent to the causeway.
View Larger Map
---