Pymatuning State Park

, Ohio and Pennsylvania

Pymatuning State Park covers a large area but is split up into smaller units that are sprinkled along the shoreline of Pymatuning Lake. A majority of the park is located in Pennsylvania (21,122 acres), with the rest found in and managed by the state of Ohio (3,512 acres). Pymatuning State Park lies within 100 miles of the Ohio communities of Youngstown, Warren, Lorain and Cleveland and the Pennsylvania communities of Erie, Sharon, Meadville, New Castle and Pittsburgh. Its large size, variety of recreational opportunities, and proximity to a large population make this park a popular destination for many folks.

The information on this website can help you learn about the amenities and recreational opportunities that Pymatuning State Park has to offer.
Camping / Cabins

Pymatuning Lake has three state campgrounds. Pymatuning Campground is the lone Ohio campground. In Pennsylvania's Pymatuning State Park you can stay in Linesville Campground and Jamestown Campground. There are also cabins available for rent. Campsites and cabins can be reserved in advance and the campsites do fill up in the summer. It is a good idea to do some advanced planning.
Swimming
Pennsylvania. There are four managed beaches: Linesville Beach, Tuttle Beach, Jamestown #1 Beach, and the Jamestown Campground Beach (Jamestown #2 Beach). These sites are generally open 8 a.m. to sunset from Memorial Day through Labor Day. The non-campground beaches have bathhouses with sanitary facilities. There is also a food concession stand or food vending machines at each of
these sites. You are responsible for your own safety while swimming.
Ohio. The Ohio Pymatuning State Park Swimming Beach is just south of the 85/285 causeway. You will find a bathhouse, showers, vending machines, and a volleyball court at this facility.
Fishing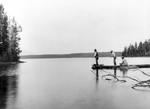 Pymatuning Lake is one of the best fishing lakes in the area. You can catch walleye, muskellunge, carp, crappie, perch, bluegill, largemouth, smallmouth bass (black bass), and channel catfish. Fishing from the shore, from a boat, and ice fishing are all popular. If you are fishing from the shore you will need a fishing license from the state where you are located. A license from either Ohio or Pennsylvania is acceptable if you are fishing from a boat anywhere on Pymatuning Lake.
Boating
Non-powered boats and boats with motors up to 10 horsepower are allowed on Pymatuning Lake. You can rent floatboats, motorboats, rowboats, canoes and motors at the three marinas (Espyville, Linesville, and Jamestown) on the lake.
Non-powered boats should display at least one of the following: a) Pennsylvania State Park launch permit b) Pennsylvania State Park mooring permit or c) a current Pennsylvania or Ohio boat registration. Motorized boats must display a current registration. If your boat is not registered in Ohio or Pennsylvania and you are launching your boat from a Pennsylvania boat launch, it must display a Pennsylvania State Park launch permit and your current registration. Launch permits are available at the Pennsylvania state park office (their address is given below).
Picnicking

Picnic tables and charcoal fireplaces are found throughout the park. There are ten picnic pavilions in the Pennsylvania portion of Pymatuning State Park that you can reserve for a fee. Unreserved picnic pavilions are free on a first-come, first-served basis. The Ohio park has similar arrangements: there are family size picnic facilities scattered throughout the park and 3 larger picnic shelters. You can pay to reserve the picnic shelters at the park office (see their address below) or they are first-come-first served when unreserved.
Sightseeing
Besides an opportunity to spend time enjoying the natural beauty of the water and the surrounding shores of Pymatuning Lake, there are a number of interesting places you may want to visit while you are at Pymatuning State Park. Just north of the
Linesville/Espyville causeway is one of the largest warm water fish hatcheries in the world: the Pennsylvania Fish and Boat commission hatchery in Linesville. They are generally open every day (call for hours and directions 814-683-4451) and they have a visitor center that is very kid friendly. On the same causeway bridge as the hatchery is the famous Linesville "spillway." You can
feed the carp here and on some days, as the legend goes, the fish are so plentiful that ducks will walk across the their backs to get the food people throw to the fish. Between the spillway and the hatchery is the Pymatuning Wildlife Learning Center. It is not open every day but if it is open on a day your visiting, it is worth checking out. You will be able to learn lots of interesting things about the wildlife and habitats around Pymatuning Lake.
Wintertime Activities

Cold weather does not bring an end to enjoying Pymatuning Lake and Pymatuning State Park. You can enjoy pursuits that include plenty of ice - ice fishing, ice-skating, ice-boating - and other cold weather sports such as sledding, cross-country skiing and snowmobiling. Jamestown Marina maintains a winter concession where you can buy refreshments , rent ice skates, and rent cross-country skis.
State Park Contact information:
Pennsylvania
Pymatuning State Park
2660 Williamsfield Road
Jamestown, PA 16134-0425
Telephone: (724) 932-3141
e mail: pymatuningsp@state.pa.us
website

Ohio
Pymatuning State Park
6260 Pymatuning Lake Rd
Andover, Ohio 44003-1000
Park Office (440) 293-6030
Camp Office (440) 293-6684
1-866-644-6727 for reservations
website
---